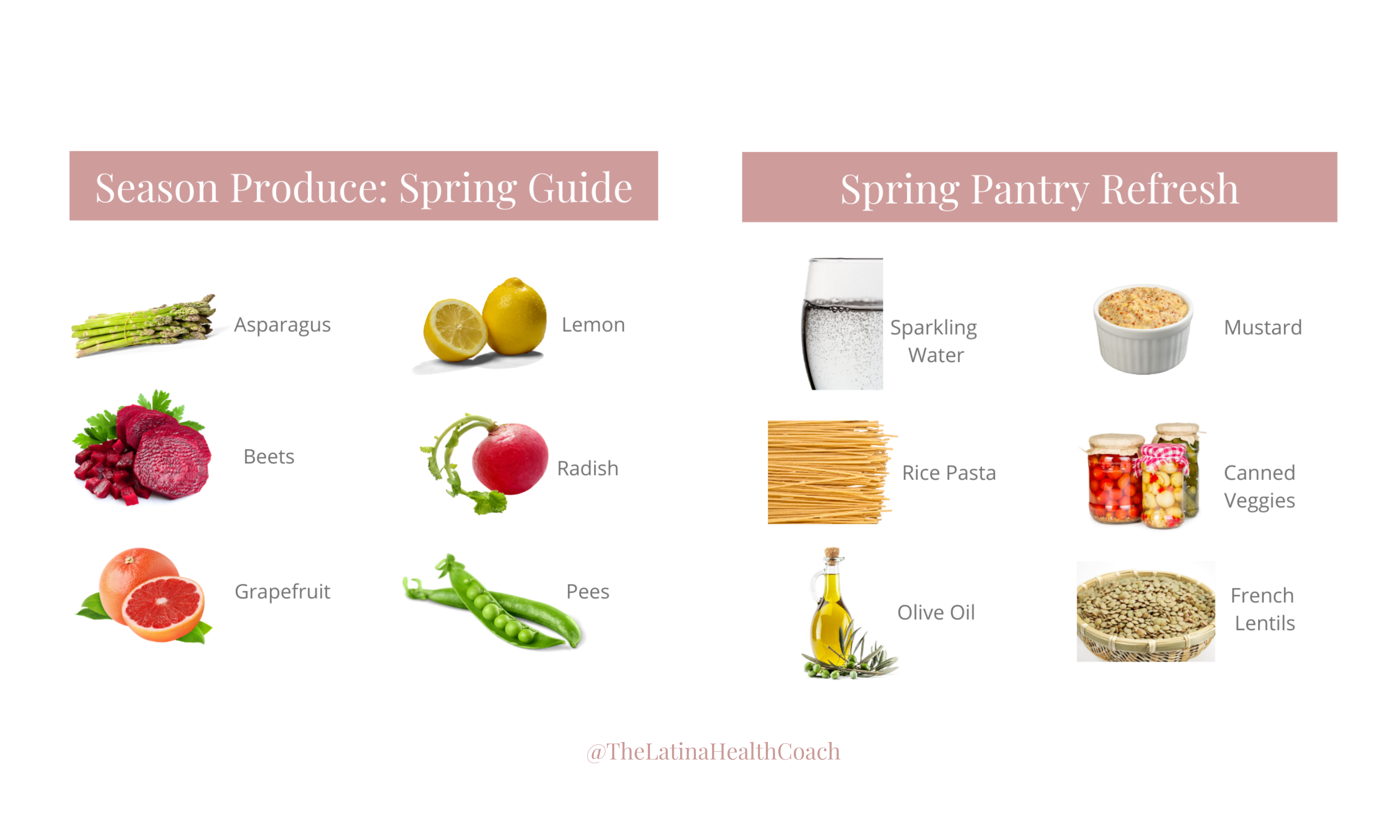 Spring cleaning is usually done in closets and other cluttered areas, but it's important to do a Spring Kitchen Refresh as well. Get in the habit of updating your groceries to match the season by stocking up on spring pantry essentials and spring produce. Here's a quick guide to help you get started. 
Spring Pantry Essentials⠀⠀
⠀
1. Rice Noodles: Lighter in texture, these noodles won't leave you feeling over-full. Rice noodles make good additions to salads, broth bowls, and stir-fries.⠀⠀⠀⠀⠀⠀⠀⠀⠀
⠀⠀⠀⠀⠀⠀⠀⠀⠀
2. High-Quality Mustard: Whether dijon, spicy brown, or whole-grain, mustard is a great pantry staple. It adds rich flavor and tang to marinades and flavors salad vinaigrettes, and balances out creamy potato salads. Go with stone-ground for extra texture and body.⠀⠀⠀⠀⠀⠀⠀⠀⠀
⠀⠀⠀⠀⠀⠀⠀⠀⠀
3. Infused Olive Oils: Veggies shine in the spring, so highlight their natural flavors with a drizzle of olive oil and a sprinkling of salt and pepper. Opt for fruity olive oil, the higher quality the better, and you won't have to do much else. Perfect for produce that has been grilled or needs something to be tossed in. ⠀⠀⠀⠀⠀⠀⠀⠀⠀
⠀⠀⠀⠀⠀⠀⠀⠀⠀
4. Infused Sparkling Water: As the weather warms up, cold drinks become the new norm. Choose fresh fruits and herbs to create infused sparkling waters that will keep you hydrated during the warmer months. ⠀⠀⠀⠀
Spring Produce
Peas:

Because peas tend to be sweet, they taste great in salads, pasta dishes or served as a side sautéed in olive oil and garlic. 

Carrots:

 Here's a fun fact, did you know that "baby" carrots aren't really baby carrots? They are regular carrots cut and shaped into bite-sized pieces! We've been fooled all these years! 

Rhubarb:

 I have to be honest, I have never cooked or baked with rhubarb. Have you? I have some recipe ideas I'd like to try this season and will report back.

Asparagus: 

April is peak asparagus season! Roast, grill, steam, or boil them.

Artichokes

: Artichokes are in season during spring and fall. Look for artichokes that feel heavy when you pick them up, and whose petals (leaves) haven't opened wide. Joe's family stuffs them with breadcrumb, olive oil and garlic then bakes them. They are so delicious and fun to eat.

Fava beans:

 Fava beans are pretty amazing given the amount of nutrition they contain. In addition to being a lean protein choice with lots of fiber, fava beans contain vitamin K, vitamin B6, zinc, copper, iron, magnesium and more. To cook, toss with in avocado oil and season with salt and pepper. You can also mash them up and use as a spread. Anything goes!

Radishes: 

If you love radishes, spring is the time to buy them. Serve them thinly sliced in a salad or roast them and serve as a side dish. They are also delicious with butter and a sprinkle of salt.

Leeks, Spring Garlic, Spring Onions:

 Leeks grow in mounds of soil to keep their stalks white and not exposed to the sun, so smart! Use spring garlic and spring onions in recipes that call for regular garlic or onions.

Fennel:

 Slice raw fennel and toss with your favorite dressing. You can also roast fennel and serve it as a side dish. Fun fact: Fennel is one of the most widely used herbal plants. Fennel Essential Oils 

and all parts of the plant are used for cooking, baking and as medicine for over 40 types of disorders. 
Here are some links that incorporate seasonal produce. Hope they serve as inspiration!
Related links: 
Cómo preparar tu cocina para la llegada de primavera (Productos básicos para la despensa + productos de temporada)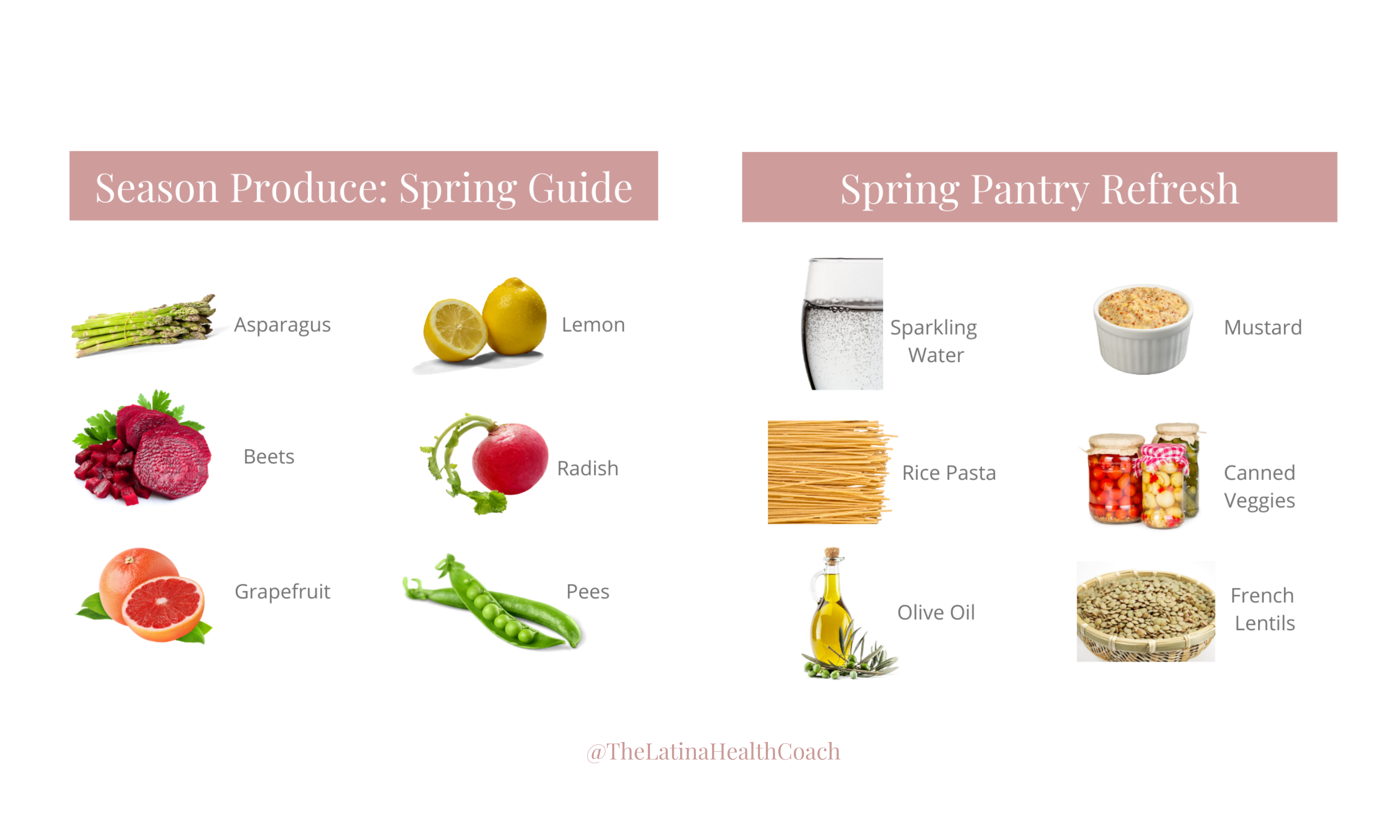 La limpieza de primavera (o Spring Cleaning) generalmente se hace en los armarios, pero también es importante hacer una actualización en la cocina. Haz el hábito de actualizar la cocina para que coincida con la temporada incluyendo productos de temporada y estos productos esenciales para la despensa.  A continuación, una guía rápida que te ayudará a comenzar.
Productos Esenciales Para la Despensa
Fideos de arroz: de textura más ligera, estos fideos no son pesados. Los fideos de arroz son una buena adición a ensaladas, sopas y salteados.
Mostaza de alta calidad: ya sea dijon o picante, la mostaza es una excelente adición para tu despensa. Le da un rico sabor a los adobos y sabores a las vinagretas de ensalada, y equilibra las cremosas ensaladas de papa.
Aceites de oliva con sabor a frutas o especias: las verduras brillan en la primavera, así que resalte sus sabores naturales con un chorrito de aceite de oliva y una pizca de sal y pimienta. Opte por un aceite de oliva de alta calidad, y no tendrá que hacer mucho más.
Agua con gas con sabor a fruta y hierbas frescas: a medida que el clima se calienta, las bebidas frías se convierten en la nueva norma. Elija frutas y hierbas frescas para crear infusiones de aguas con gas que lo mantendrán hidratado durante los meses más calientes.
Productos de Primavera 
Guisantes: Debido a que los guisantes tienden a ser dulces, saben muy bien en ensaladas, platos de pasta o se sirven como acompañamiento salteados en aceite de oliva y ajo.
Zanahorias: un dato curioso, ¿sabías que las zanahorias "baby" no son realmente zanahorias baby? ¡Son zanahorias regulares cortadas y moldeadas en trozos pequeños! ¡Nos han engañado todos estos años!
Ruibarbo: Tengo que ser honesto, nunca he cocinado ni horneado con ruibarbo. ¿Tiene? Tengo algunas ideas de recetas que me gustaría probar esta temporada y les informaré.
Espárragos: ¡Abril es la temporada alta de espárragos! Ase, ase a la parrilla, cocine al vapor o hiérvalas.
Alcachofas: Las alcachofas están en temporada durante la primavera y el otoño. Busque alcachofas que se sientan pesadas cuando las recoja y cuyos pétalos (hojas) no se hayan abierto completamente. La familia de Joe los rellena con pan rallado, aceite de oliva y ajo y luego los hornea. Son tan deliciosos y divertidos de comer.
Habas: Las habas son bastante sorprendentes dada la cantidad de nutrientes que contienen. Además de ser una opción de proteína magra con mucha fibra, las habas contienen vitamina K, vitamina B6, zinc, cobre, hierro, magnesio y más. Para cocinar, mezcle con aceite de aguacate y sazone con sal y pimienta. También puede triturarlos y usarlos para untar. ¡Todo vale!
Rábanos: Si te encantan los rábanos, la primavera es el momento de comprarlos. Sírvelos en rodajas finas en una ensalada o ásalos y sírvelos como guarnición. También quedan deliciosos con mantequilla y una pizca de sal.
Puerros, Ajo Primavera, Cebolletas: Los puerros crecen en montículos de tierra para mantener sus tallos blancos y no expuestos al sol, ¡qué inteligente! Use ajos tiernos y cebolletas tiernas en recetas que requieran ajo o cebollas regulares.
Hinojo: corte el hinojo crudo y mezcle con su aderezo favorito. También puedes asarlo. Dato curioso: el hinojo es una de las plantas a base de hierbas más utilizadas. El aceite esencial de hinojo y todas las partes de la planta se utilizan para cocinar, hornear y como medicamento para más de 40 tipos de trastornos.
Aquí hay algunos enlaces que incorporan productos de temporada. ¡Espero que sirvan de inspiración!
Enlaces relacionados:
wraps de ensalada de garbanzos
¿Interesado en aprender más?