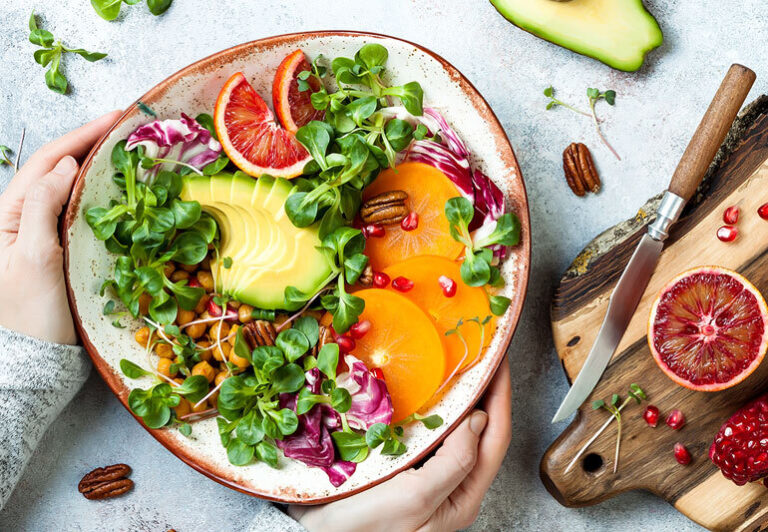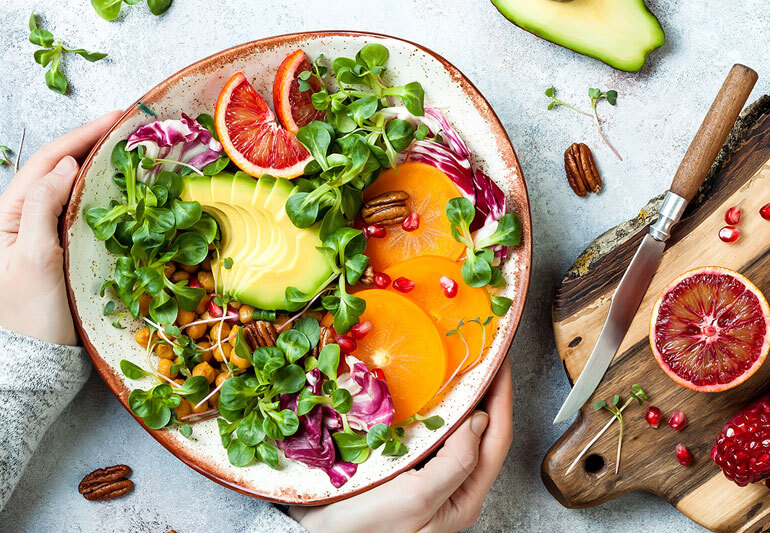 If you've given any thought to living a long healthy life, you have probably thought about your diet. Almost every week a new trend is hitting the health food headlines making it almost impossible to settle on what to eat and not eat.
But there is one diet that is consistently backed by science, to reduce your risk of disease and it's a plant-based diet.
Here are 5 Health Benefits of Following a Plant-Based Diet (Backed by Science)
1. May Help Prevent Type 2 Diabetes: Studies show that eating a plant-based diet can reduce the risk of developing type 2 diabetes by 34%.
2. Can Help Keep Your Heart Healthy: Meat contains saturated fat, which can contribute to heart issues when eaten in excess. By cutting back on meat and loading up on veggies, you'll do your heart a favor.
3. May Improve Your Cholesterol: High cholesterol can lead to fatty deposits in the blood, which can restrict blood flow and potentially lead to heart disease. A healthy plant-based diet can help keep cholesterol levels in check.
4. May Decrease Your Risk of Cancer: The American Institute for Cancer Research states the best way to source cancer-protective nutrients, including fiber, vitamins, minerals, and phytochemicals, is to eat a diet rich in a variety of plants.
5. May Help You Live Longer: All of the health benefits listed here lead to one major thing: living a longer, healthier life.
Eating plant-based does not mean you can't enjoy the foods you love, it means most of your meals are made up of plants leaving room to enjoy other foods in moderation. I like to call it a 90/10 lifestyle, meaning 90% of your meals are plant and 10% of your meals are things you enjoy.
To get started, start by substituting one meal a day for a plant-based alternative or one meal every other day – starting slow feels less overwhelming.
Below are 3 easy, plant-based recipes to help you get started:
Roasted Delicata Squash w/ Cilantro Chimichurri
If you want to learn more about the health benefits of eating Plant-Based and don't know where to start I've put together The Plant-Based Starter Kit an online course that gives you everything you need to know.
The online course includes:
2 (26 min) training videos
A 7-day meal plan
Supermarket lists
Mindset hacks
Recipe ideas!
Learn how to transform your health, break free from diets, increase your energy, reduce bloating, and better sleep!

5 beneficios para la salud de seguir una dieta basada en plantas (respaldado por la ciencia)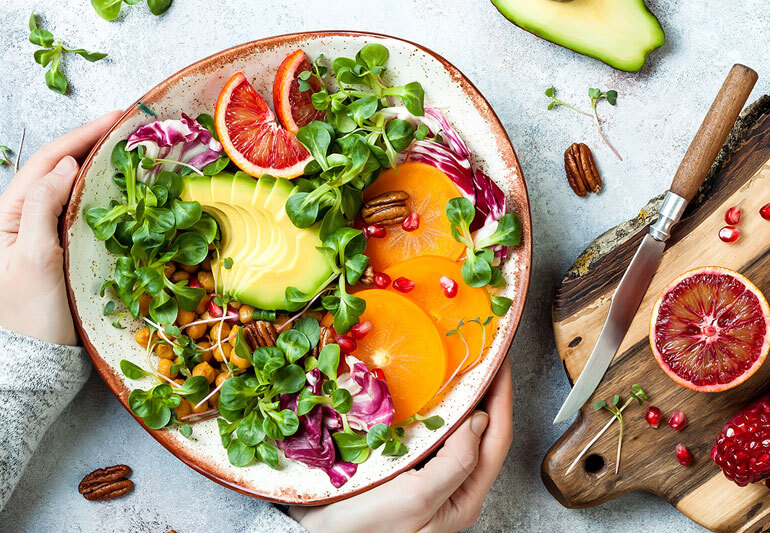 Si has pensado en vivir una vida larga y saludable, probablemente has pensado en tu dieta. Casi todas las semanas, una nueva dieta aparece por los medios, facebook, Instagram, las noticias, etc. hacienda que sea casi imposible decidir qué comer y qué no comer.
Pero hay una dieta que está respaldada constantemente por la ciencia para reducir el riesgo de enfermedades y es una dieta basada en plantas.
Aquí 5 beneficios para la salud de seguir una dieta basada en plantas (respaldado por la ciencia)
1. Puede ayudar a prevenir la diabetes tipo 2: los estudios demuestran que consumir una dieta basada en plantas puede reducir el riesgo de desarrollar diabetes tipo 2 en un 34%.
2. Puede ayudar a mantener su corazón saludable: La carne contiene grasas saturadas, que pueden contribuir a problemas cardíacos cuando se comen en exceso. Si reduce el consumo de carne y comes mas verduras, le haras un favor a tu corazón.
3. Puede mejorar su colesterol: El colesterol alto puede provocar depósitos de grasa en la sangre, que pueden restringir el flujo sanguíneo y potencialmente provocar enfermedades cardíacas. Una dieta saludable a base de plantas puede ayudar a mantener los niveles de colesterol bajo control.
4. Puede disminuir su riesgo de cáncer: El Instituto Americano de Investigación del Cáncer establece que la mejor manera de obtener nutrientes protectores del cáncer, que incluyen fibra, vitaminas, minerales y fitoquímicos, es consumir una dieta rica en una variedad de plantas.
5. Puede ayudarte a vivir más tiempo: Todos los beneficios para la salud enumerados aquí conducen a una cosa importante: vivir una vida más larga y saludable.
Comer una dieta a base de plantas no significa que no puedes comer los alimentos que te gustan, simplemente significa que la mayoría de las comidas se componen de plantas. Me gusta llamar a esto un estilo de vida 90/10. Lo que significa que el 90% de tus comidas son vegetales y el 10% de tus comidas son cosas que disfruta.
Empieza sustituyendo una comida al día por una alternativa a base de plantas o una comida cada dos días; comenzar lentamente puede ser menos abrumador.
A continuación, 3 recetas sencillas a base de plantas para ayudarte a comenzar tu nuevo estilo de vida:
Calabaza Delicata Al Horno con Chimichurri de Cilantro
Si deseas aprender mas sobre los beneficios para la salud de implementar una estilo de vida a base de plantas, te encantara mi curso online "The Plant-Based Starter Kit" que incluye todo lo que necesitas para empezar.
El curso incluye:
• 2 videos de nutricion (26 min)
• Un plan de comidas de 7 días
• Listas de compras
• ¡Ideas de recetas!
¡Aprenda a transformar tu salud, deja las dietas que no funcionan, aumenta tu energía, reduce la inflamacion del cuerpo y duerme mejor!