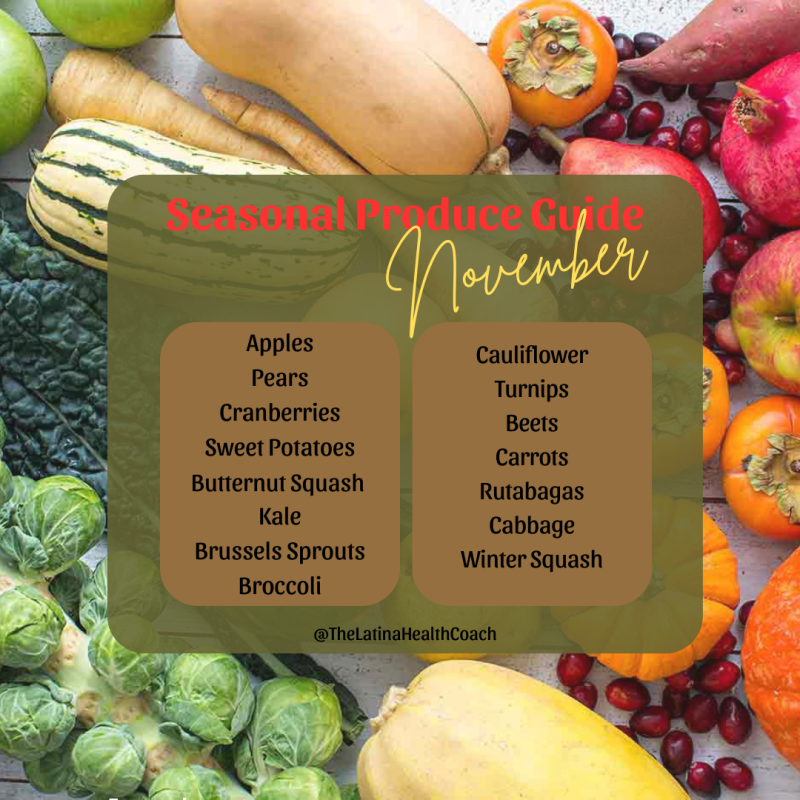 Nutrition Tip: seasonal produce is fresher but often more affordable and environmentally friendly since it doesn't have to travel long distances. Enjoy the flavors of November by incorporating these local fruits and vegetables into your plant-based meals and snacks!
November in the East Coast offers a variety of delicious and nutritious produce options, even as the weather gets colder. Here's a produce guide for what's in season:
1. Apples: Apples are at their peak in the fall. You'll find many varieties, from sweet to tart, perfect for snacking, baking, or making homemade applesauce.
2. Pears: Pears are another fall favorite. They're great for eating fresh, adding to salads, or poaching for a delightful dessert.
3. Cranberries: With Thanksgiving around the corner, fresh cranberries are a must. They're perfect for making cranberry sauce and adding a burst of tartness to your dishes.
4. Sweet Potatoes: Sweet potatoes are a rich source of vitamins and fiber. Roast, mash, or make a hearty sweet potato soup to warm up your November.
5. Butternut Squash: This versatile squash is fantastic for soups, roasting, or pureeing into a creamy sauce.
6. Kale: Kale thrives in cooler weather, making it a nutrient-packed green to add to your salads, smoothies, or stir-fries.
7. Brussels Sprouts: Roasted or sautéed, these little cabbage-like veggies are a wonderful side dish for your fall meals.
8. Broccoli: Broccoli is a year-round favorite but particularly good in November. Steam, roast, or stir-fry it for a healthy side or main dish.
9. Cauliflower: Another cruciferous veggie, cauliflower, can be used to make low-carb alternatives like cauliflower rice or mashed cauliflower.
10. Turnips: These root vegetables are perfect for soups and stews and can be roasted for a unique side dish.
11. Carrots: Carrots are sweet and crunchy, great for snacking, roasting, or adding to your favorite dishes.
12. Beets: Roasted beets make a colorful addition to salads, or you can pickle them for a tangy side.
13. Rutabagas: Try these earthy-flavored root vegetables in mashed dishes or soups.
14. Cabbage: Whether for coleslaw, sauerkraut, or stuffed cabbage rolls, November is a great time for cabbage.
15. Winter Squash: Varieties like acorn, spaghetti, and pumpkin are perfect for roasting, stuffing, or turning into hearty soups

Guía de Productos de noviembre 🍁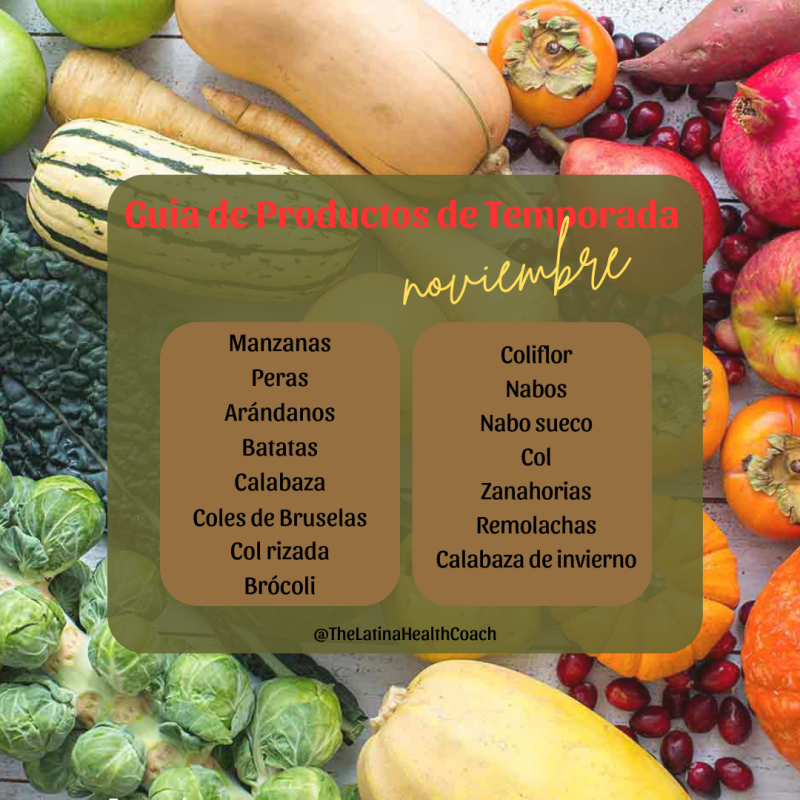 Consejo Nutricional: los productos de temporada son más frescos y, a menudo, más asequibles ya que no tienen que viajar largas distancias. ¡Disfruta de los sabores de noviembre incorporando estas frutas y verduras locales en tus comidas y meriendas basadas en plantas!
Por supuesto, aquí tienes la guía de productos para el mes de noviembre en la costa este, traducida al español:
Noviembre en la costa este ofrece una variedad de opciones deliciosas y nutritivas de productos, incluso a medida que el clima se vuelve más frío. Aquí tienes una guía de productos de temporada:
1. Manzanas: Las manzanas están en su punto máximo en otoño. Encontrarás una amplia gama de variedades, desde dulces hasta ácidas, perfectas para picar, hornear o hacer compota casera.
2. Peras: Las peras son otro favorito del otoño. Son ideales para comer frescas, añadir a ensaladas o hacer peras al vino tinto como postre.
3. Arándanos: Con el Día de Acción de Gracias a la vuelta de la esquina, los arándanos frescos son imprescindibles. Son perfectos para hacer salsa de arándanos y añadir un toque de acidez a tus platos.
4. Batatas: Las batatas son una rica fuente de vitaminas y fibra. Ásalas, haz puré o prepara una reconfortante sopa de batata para calentar tu noviembre.
5. Calabaza: Esta versátil calabaza es fantástica para sopas, asados o puré para una salsa cremosa.
6. Kale (Col rizada): El kale prospera en el clima más fresco, lo que lo convierte en una verdura llena de nutrientes para añadir a tus ensaladas, batidos o salteados.
7. Coles de Bruselas: Asadas o salteadas, estas pequeñas verduras parecidas a repollo son un maravilloso acompañamiento para tus comidas de otoño.
8. Brócoli: El brócoli es un favorito durante todo el año, pero es especialmente bueno en noviembre. Cocínalo al vapor, ásalo o saltéalo para un plato principal o acompañamiento saludable.
9. Coliflor: Otra verdura crucífera, la coliflor se puede utilizar para hacer alternativas bajas en carbohidratos como arroz de coliflor o puré de coliflor.
10. Nabos: Estas raíces son ideales para sopas y guisos y se pueden asar para acompañar de forma única.
11. Zanahorias: Las zanahorias son dulces y crujientes, ideales para picar, asar o añadir a tus platos favoritos.
12. Remolachas: Las remolachas asadas añaden un toque de color a las ensaladas, o puedes encurtirlas para obtener un acompañamiento agridulce.
13. Nabo sueco: Prueba estas raíces con sabor terroso en purés o sopas.
14. Col: Ya sea para ensalada de col, chucrut o rollitos de col rellenos, noviembre es un buen momento para la col.
15. Calabaza de invierno: Variedades como la bellota, espagueti y calabaza de Halloween son ideales para asar, rellenar o convertir en sopas sustanciosas.