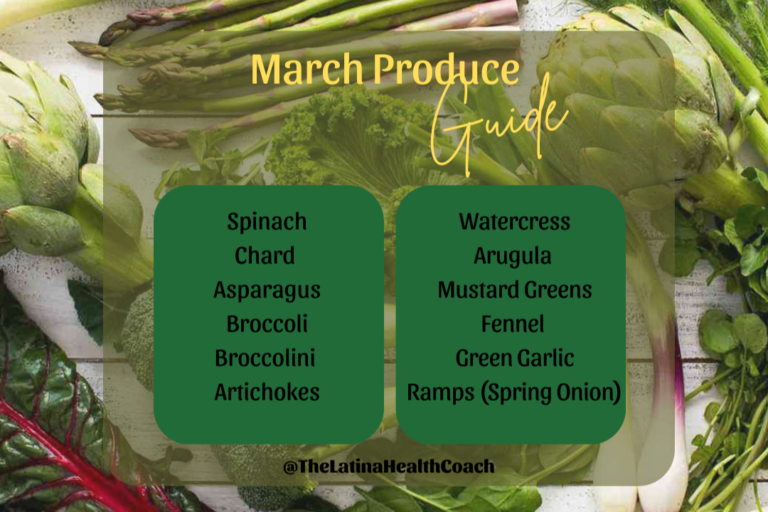 March is all about GREEN produce! Spring is (almost) here and with it comes some of my favorite veggies like asparagus, artichokes and ramps. You'll also find broccoli, fennel, and chard, watercress, arugula, and mustard greens.
As a reminder, eating seasonally adds diversity to your plant-based (or plant-based forward) diet while keeping you healthy and lowering the cost of groceries!
Here's a helpful guide with links to some of my favorite Spring-inspired recipes from around the web.
Asparagus and Artichokes
Artichokes have two seasons, spring and fall, but their big season is spring. Artichokes are thistles—flowers—and the parts we eat are the petals of the flower (the "leaves") and the heart, underneath the thistle choke. The best way to eat an artichoke is simply steamed, but they are also great grilled, braised, or stuffed.
Dairy-Free Cream of Asparagus Soup
Broccoli and Broccolini
While you can get broccoli and its tender sister broccolini all year round, they are the happiest in the cooler months. Did you know that broccoli is a superfood? It's high in protein, fiber, and vitamins A and C.
Vegan Garbanzo Broccolini Stir Fry
Watercress, Arugula, and Mustard Greens
What do these greens have in common? They are all naturally peppery and can jazz up anything they're served with.
Watercress, Mushroom & Cashew Stir-Fry
Green Garlic, Ramps (Spring Onions), and Leeks
What is green garlic? Immature garlic that hasn't yet developed its bulb. Use green garlic in place of regular garlic, leeks, or green onions. What are spring onions? Mature green onions that have started to develop a bulb. Roast them, grill them, use them in place of onions. Both green garlic and spring onions are available in the spring.
Spinach and Chard
Broccoli, spinach, and chard are also cool-weather crops. They're the most versatile of greens, tender and mild in flavor.
Fennel
Delicious raw or cooked, try roasting thickly sliced fennel with olive oil and vinegar.