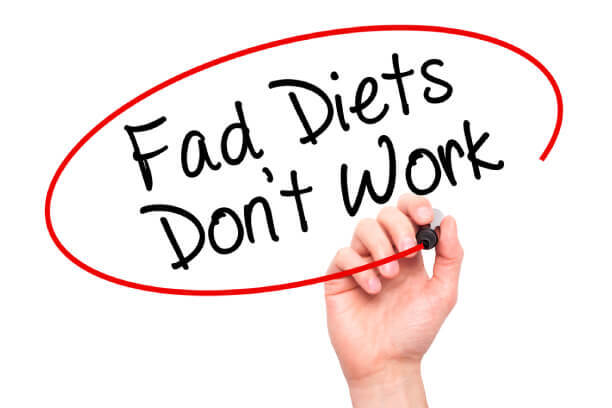 What do you think about when you hear of the term "fad diet"? Most of us think:
• 30-day challenges.
• Cabbage soup diet.
• Meal replacement shakes.
• A quick way to lose weight.
…and chances are you've tried at least one of these at some point in your life.
By definition, fad diets are plans labeled as a fast approach to losing weight. They promise to be the miracle solution but in reality, they are misleading, sometimes expensive, and Never.Work.Longterm!
3 Reason's Why Fad Diets Fail:
• One size fits all diets don't work because what you eat should be specific to your body's needs (hormones, age, pre-existing conditions, etc).
• Very restrictive diets aren't sustainable long-term. At some point you will want to enjoy the foods you love (as you should b/c life should be enjoyable and fun!) and will end up breaking the diet. For example; holidays, birthdays, and other special events.
• Fat diets don't teach you how to eat to nourish your body and they definitely don't teach you how to heal your relationships with food.
….here's a fun fact! Only 5 (!!!) percent of people who lose weight on a crash diet (aka fad diet) will keep the weight off. Read More Here
Instead of falling victim to the next plan that comes along, try following these easy steps:
• Replace processed foods with whole foods. This includes: seasonal fruits and vegetables, nuts, seeds, beans, legumes, whole grains and healthy fats (avocado, olive oil, coconut oil, ghee, etc.)
• Drink ½ your body weight in oz. of water a day + more if you drink caffeine.
• Move your body at least 20min a day by doing something you love (walking, jogging, biking, yoga)
• Prioritize sleep
• Allow yourself to be imperfect, everyday doesn't have to be perfect. Remember progress over perfection.
Once you start to implement these lifestyle changes you will notice how your body rewards with more energy, less bloating, better sleep!
So, if you're ready to ditch the fat diets and take control of your health, I invite you to join my FREE Private Facebook Group! A group I created to help our community stay accountable!
In the group I share daily wellness tips and easy-to-follow plant-based recipes the entire family is going to love!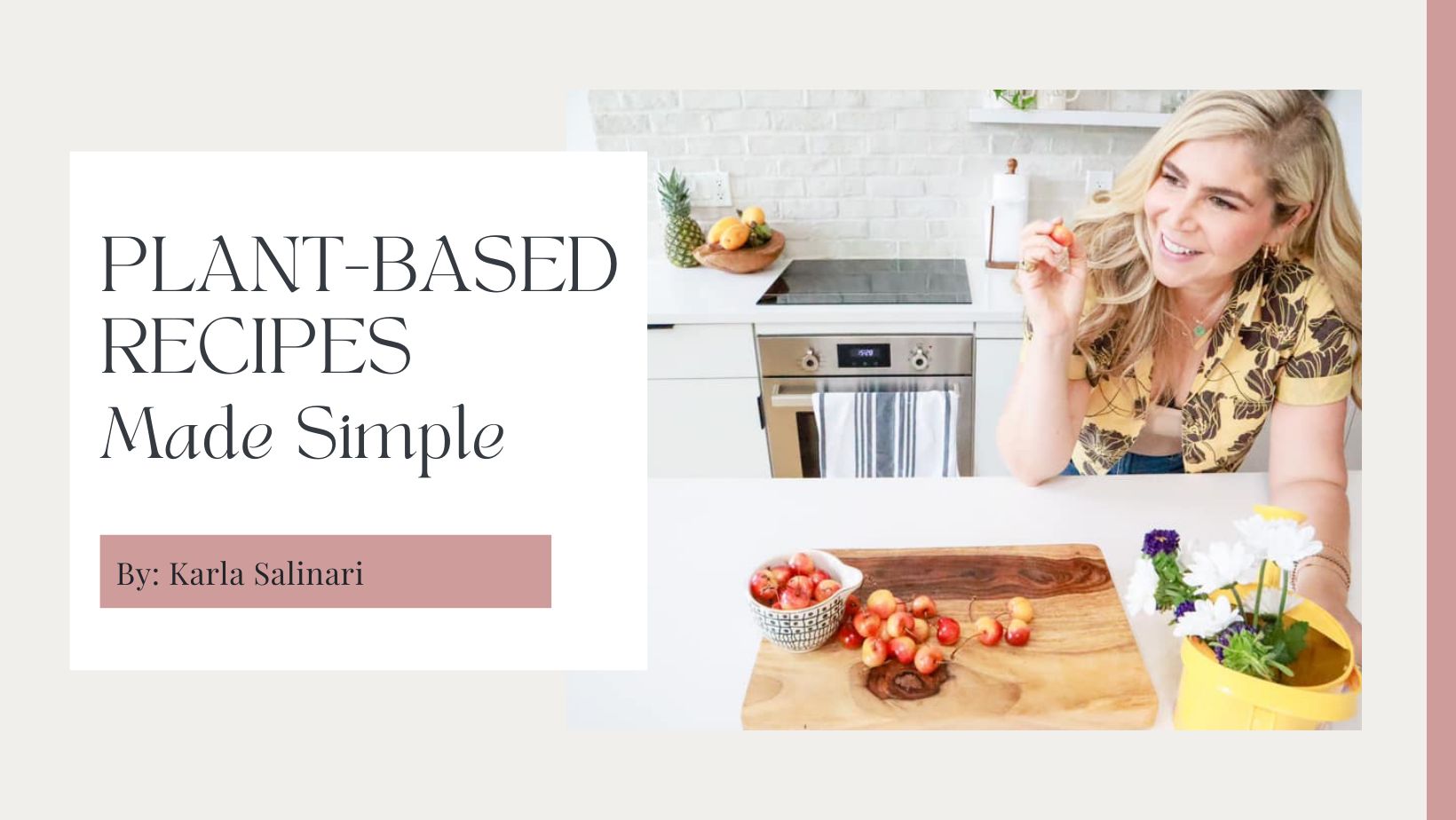 3 Razones Por Las Que Fracasan Las Dietas Que Estan De Moda (+ lo que realmente funciona)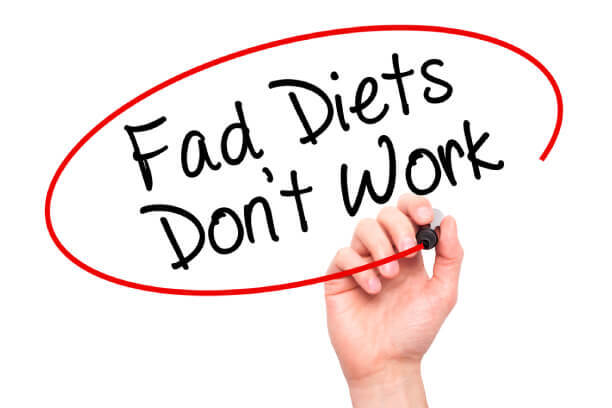 ¿En qué piensas cuando oyes a alguien decir "esta dieta esta de moda"? La mayoría de nosotros pensamos:
Retos de 30 días.
Dieta de sopa de repollo.
Batidos para rebajar.
Una forma rápida de perder peso.
… y es probable que hayas probado al menos una de estos en algún momento de tu vida.
Por definición, las dietas que estan de moda son planes etiquetados como un método rápido para bajar de peso. Prometen ser la solución milagrosa, pero en realidad son engañosas, a veces costosas y nunca funcionan a largo plazo. 
3 Razones Porque Fracasan Las Dietas Que Estan Moda:
1. Las dietas de talla única no funcionan porque lo que comes debe ser específico para las necesidades de tu cuerpo (hormonas, edad, condiciones preexistentes, etc.).
2. Las dietas muy restrictivas no son sostenibles a largo plazo. En algún momento querrás disfrutar de las comidas que te gustan (¡como deberías porque la vida debe ser agradable y divertida!) Y terminarás rompiendo la dieta. Por ejemplo; vacaciones, cumpleaños y otros eventos especiales.
3. Las dietas que estan de moda no te enseñan cómo comer para nutrir tu cuerpo y definitivamente no te enseñan cómo sanar tus relaciones con la comida.
… ¡Te tengo un dato divertido! Solo el 5 por ciento de las personas que pierden peso con una dieta de choque (también conocida como dieta de moda) mantendrán el peso. Leer más aquí
En lugar de caeer víctima a próximo plan que se presente, te recomiendo seguir estas recomendaciones:
• Reemplaca los alimentos procesados con alimentos integrales. Esto incluye: frutas y verduras de temporada, frutos secos, semillas, frijoles, legumbres, cereales integrales y grasas saludables (aguacate, aceite de oliva, aceite de coco, ghee, etc.)
• Tomar la mitad de tu peso corporal en oz. de agua al día + más si consumes cafeína.
• Mueva tu cuerpo al menos 20 minutos al día haciendo algo que te guste (caminar, correr, andar en bicicleta, hacer yoga)
• Priorizar el sueño
• Permítete ser imperfecto, todos los días no tienen por qué ser perfectos. Recuerda el progreso sobre la perfección.
Una vez que comiences a implementar estos cambios en el estilo de vida, notaras cómo tu cuerpo te recompensa con más energía, menos inflamacion y mejor sueño.
Ahora, si estas lista/o para dejar las dietas que estan de moda atras y tomar el control de tu salud, ¡te invito a unirte a mi grupo privado de Facebook! ¡Un grupo que creé para ayudar a nuestra comunidad a mejorar su salud!
En el grupo, comparto consejos de bienestar y recetas fáciles de seguir que son saludables y a base de plantas que le encantarán a toda la familia.