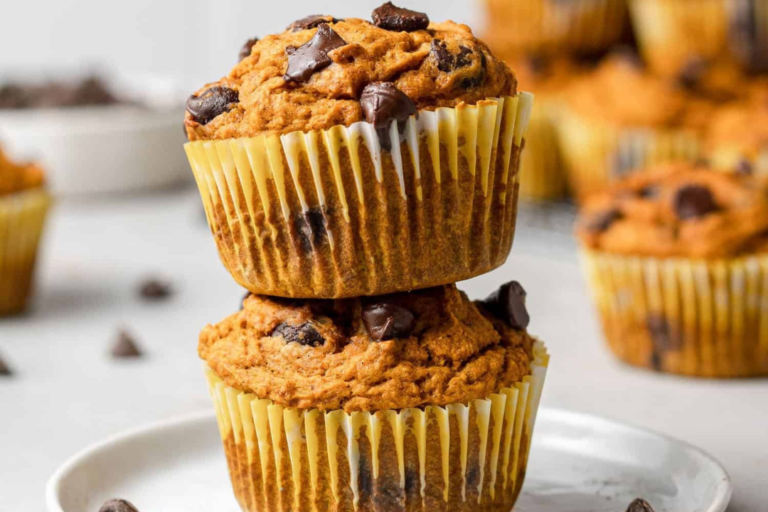 A delicious snack or breakfast recipe perfect for fall! Made with simple, plant-based ingredients, these muffins will become a staple in your kitchen.
Nutrition Tip: Rich in vitamins, minerals and antioxidants, pumpkin is incredibly healthy. Its nutrients and antioxidants can help boost your immune system, improve eyesight, lower your risk of certain cancers, and promote heart and skin health.
Ingredients
1 medium banana, mashed
1 (15oz) can pumpkin puree
1/4 cup maple syrup
1 tsp vanilla extract
2 cups chickpea flour (oat flour works too)
2 tsp pumpkin spice
1/2 tsp baking soda
1/2 tsp baking powder
1/2 tsp salt
3/4 cup dairy-free chocolate chips
Instructions: Preheat the oven to 375F. Line a muffin pan with muffin liners and lightly spray with nonstick cooking spray. Set it aside.
To a large mixing bowl add the wet ingredients and combine. To a small mixing bowl add the dry ingredients and combine. Mix the wet ingredients with the dry ingredients and mix to combine. Fold in the chocolate chips. Evenly distribute the muffin mixture into the lined muffin pan and bake for 20min or until a toothpick inserted comes out mostly clean. Remove from the oven and let cool before serving.
Need more plant-based recipe ideas? I invite you to join my FREE Private Facebook Group! A group I created to help my community stay accountable. In the Facebook Group I share daily recipes and wellness tips to help you on your plant-based journey.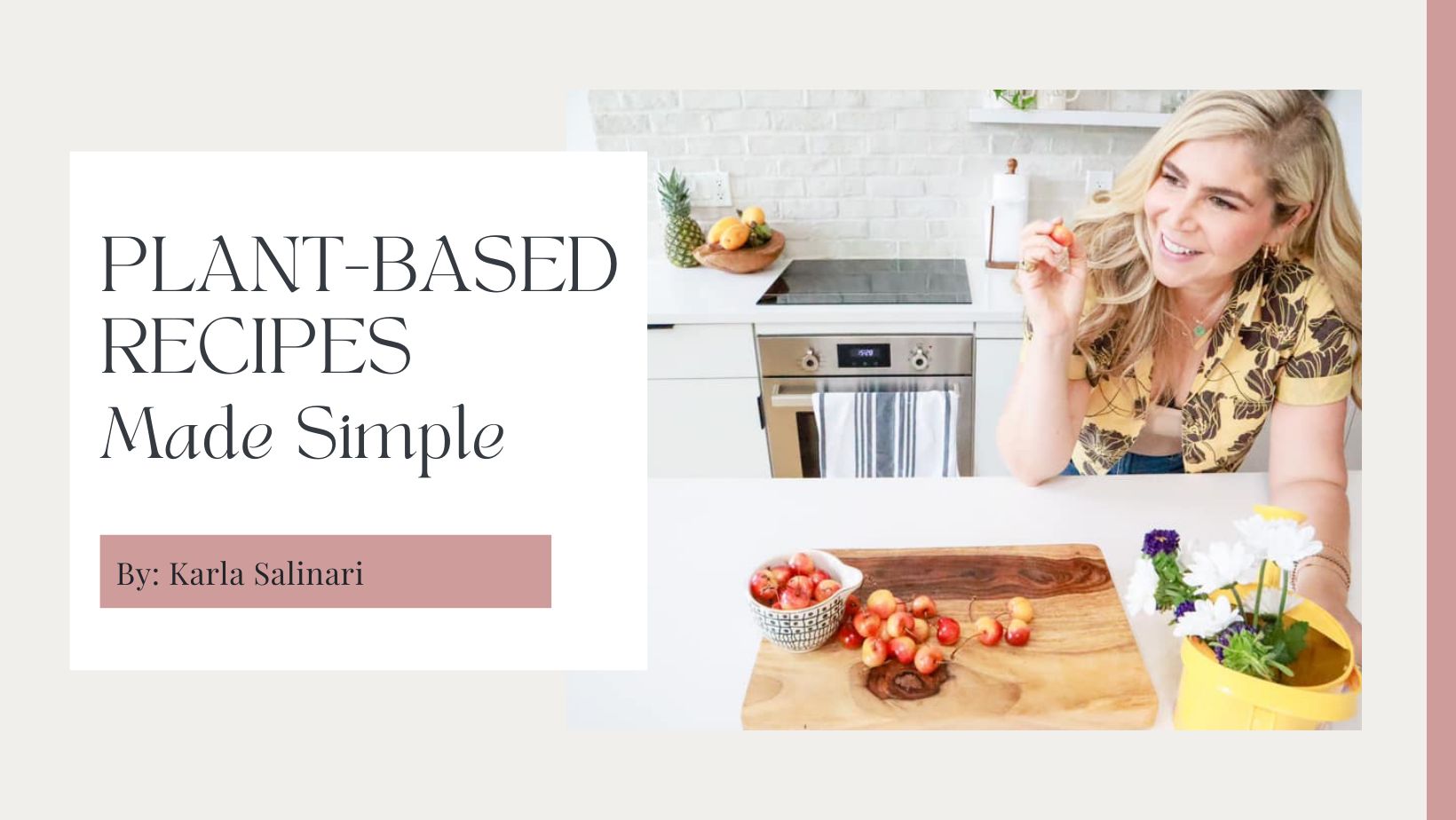 Muffins de Calabaza y Chocolate en 20 minutos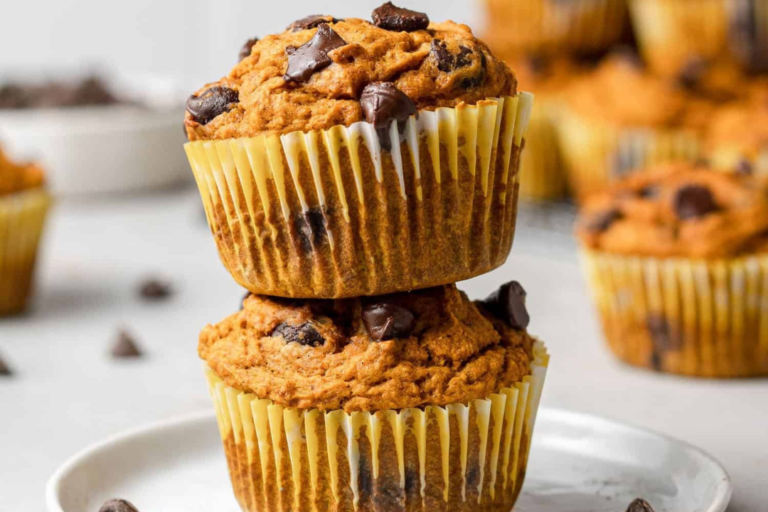 ¡Una deliciosa receta de merienda o desayuno perfecta para el otoño! Hechos con ingredientes simples de origen vegetal, estos muffins se convertirán en un elemento básico en su cocina.
Consejo de nutrición: rica en vitaminas, minerales y antioxidantes, la calabaza es increíblemente saludable. Sus nutrientes y antioxidantes pueden ayudar a estimular su sistema inmunológico, mejorar la vista, reducir el riesgo de ciertos tipos de cáncer y promover la salud del corazón y la piel.
Ingredientes
1 plátano mediano, majado
1 lata (15 onzas) de puré de calabaza
¼ taza de jarabe de arce o miel
1 cucharadita de extracto de vainilla
2 tazas de harina de avena
½ cucharadita de bicarbonato de sodio
½ cucharadita de levadura en polvo
½ cucharadita de sal
2 cucharaditas de especia de calabaza (Pumpkin Spice)
1 taza de chispas de chocolate sin lácteos
Instrucciones
Precaliente el horno a 375°F. En un tazón grande, combine el puré de plátano, el puré de calabaza, el jarabe de arce y la vainilla.
En un tazón pequeño, combine la harina de avena, el bicarbonato de sodio, el polvo de hornear, la sal, especia de calabaza.
Transfiera la mezcla a un tazón grande y mezcle hasta que esté bien combinado. Evite mezclar demasiado para evitar la dureza en el producto final. Heche las chispas de chocolate.
Coloque la mezcla en moldes de silicona o papel para muffins y hornee durante 20 minutos o hasta que los muffins estén dorados. Retire del horno y deje enfriar durante 5 minutos.
¿Necesitas más ideas de recetas a base de plantas? ¡Te invito a unirte a mi Grupo Privado de Facebook GRATIS! Un grupo que creé para ayudar a mi comunidad. En el grupo de Facebook, comparto recetas diarias y consejos de bienestar para ayudarte a llevar una dieta saludable y a base de plantas.
Para unirte al group, haz clic en el enlace de abajo.