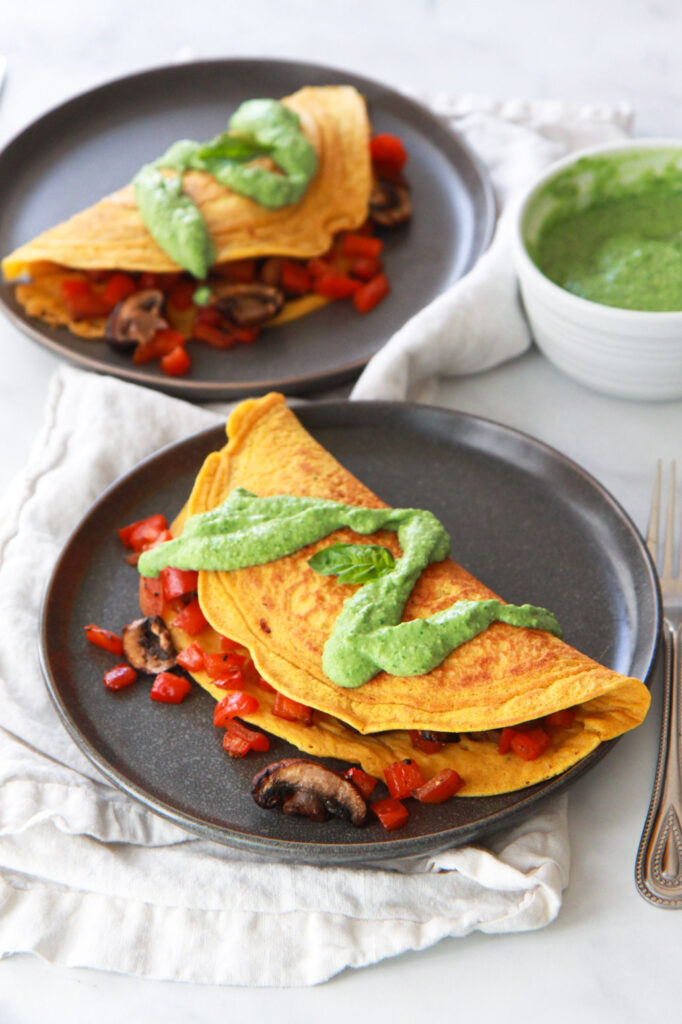 A vegan omelet is made by combining chickpea flour, nutritional yeast, lemon, and spices. This combination tastes surprisingly similar to traditional egg omelets without the dairy. Seriously, there isn't anything you can't veganize these days and I'm here for all of it! Here's a simple recipe for Vegan Omelet you can try making at home. Feel free to serve with whatever veggies you have on hand, get creative! 
Nutritional Tip: one cup of chickpea flour carries has more folate than you need in a day. This vitamin plays an important role in preventing spinal cord defects during pregnancy. Also, chickpea flour is a low-GI food that has a gradual effect on blood sugar.
Vegan Omelet
Ingredients ⠀⠀⠀⠀⠀⠀⠀⠀⠀
¾ cup chickpea flour⠀⠀⠀⠀⠀⠀⠀⠀⠀
1 tablespoon nutritional yeast⠀⠀⠀⠀⠀⠀⠀⠀⠀
½ teaspoon baking powder⠀⠀⠀⠀⠀⠀⠀⠀⠀
½ teaspoon garlic powder⠀⠀⠀⠀⠀⠀⠀⠀⠀
¼ teaspoon onion powder⠀⠀⠀⠀⠀⠀⠀⠀⠀
Pinch red pepper flakes⠀⠀⠀⠀⠀⠀⠀⠀⠀
¼ teaspoon sea salt⠀⠀⠀⠀⠀⠀⠀⠀⠀
¾ cup plain, unsweetened almond milk⠀⠀⠀⠀⠀⠀⠀⠀⠀
1 tablespoon lemon juice⠀⠀⠀⠀⠀⠀⠀⠀⠀
1 cup chopped spinach (optional)⠀⠀⠀⠀⠀⠀⠀⠀
⠀⠀⠀⠀⠀⠀⠀⠀⠀
Instructions: In a large bowl, whisk together the chickpea flour, nutritional yeast, baking powder, garlic powder, onion powder, red pepper flakes, and salt. Add the almond milk, lemon juice, and ¼ cup water; whisk until smooth. Stir in the spinach. Warm a pan/skillet on low-medium heat. Pour half of the batter into the skillet, and lightly spread out the edges. Cook over low to medium heat until bubbles form across the entire surface of the omelet and the batter begins to firm up, about 5 to 7 minutes. Flip and press the surface of the omelet gently with the spatula, and cook on low for another minute until done. Repeat with the remaining ingredients, and serve the omelets immediately with your favorite veggies.⠀
Similar links: Try this Vegan Frittata I made for Instagram using a similar recipe. 
VERSIÓN EN ESPAÑOL
Tortilla Vegana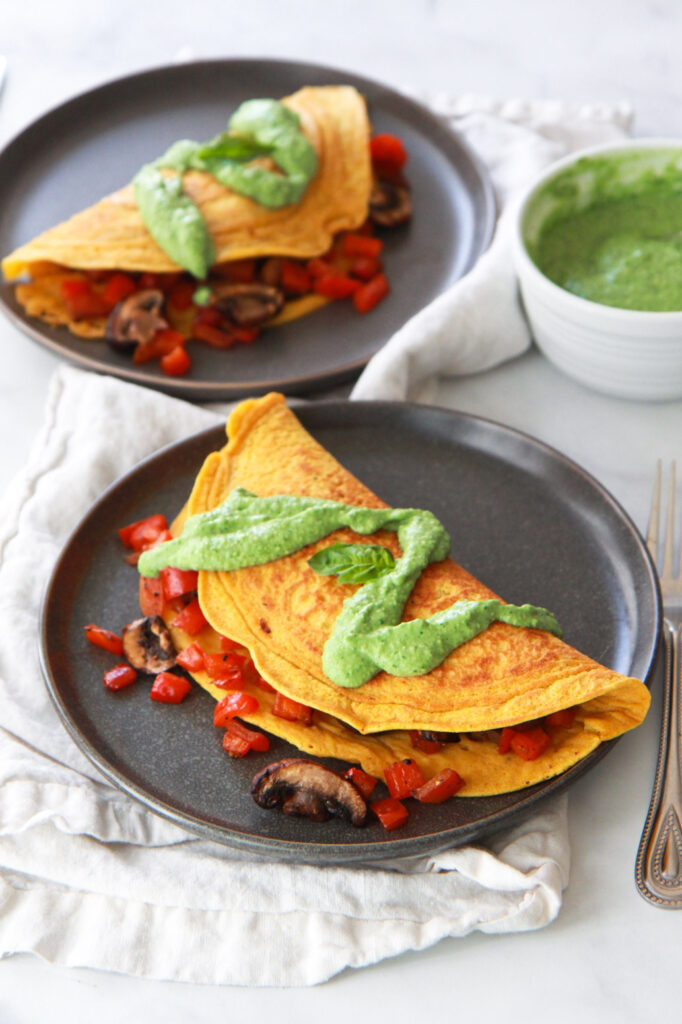 La combinación de harina de garbanzo, levadura nutricional, limón, y especias tiene un sabor sorprendentemente similar al de las tortillas de huevo. La verdad, no hay nada que no puedas "veganizar" y a mi me encata! Aquí les dejo una receta simple de tortilla vegana que puedes intentar hacer en casa. La puedes servir con cualquier verdura que tengas a mano, ¡ponte creativo!

Consejo nutricional: una taza de harina de garbanzo contiene más ácido fólico del que necesitas en un día. Esta vitamina juega un papel importante en la prevención de defectos de la médula espinal durante el embarazo. Además, la harina de garbanzo es un alimento de IG bajo que tiene un efecto gradual sobre el azúcar en sangre.

Ingredientes
¾ taza de harina de garbanzo
1 cucharada de levadura nutricional
½ cucharadita de levadura en polvo
½ cucharadita de ajo en polvo
¼ de cucharadita de cebolla en polvo
1 pizca de hojuelas de pimiento rojo
¼ de cucharadita de sal marina
¾ taza de leche de almendras sin azúcar
1 cucharada de jugo de limón
1 taza de espinaca picada (opcional)

Instrucciones: En un tazón, mezcla la harina de garbanzo, levadura nutricional, polvo de hornear, ajo, cebolla, pimienta rojo y la sal. Agregua la leche de almendras, el jugo de limón y ¼ de taza de agua; bata hasta que quede suave. Agrega las espinacas. Calienta una sartén a fuego medio-bajo. Vierta la mitad de la masa en la sartén y extienda ligeramente los bordes. Cocine a fuego lento a medio hasta que se formen burbujas en toda la superficie de la tortilla y la masa comience a endurecerse, 5-7 minutos. Voltea y presione suavemente la tortilla con la espátula, y cocine a fuego lento durante otro minuto hasta que esté listo. Repite con el resto de ingredientes y sirve las tortillas inmediatamente con verduras.⠀⠀⠀⠀⠀⠀⠀
Enlaces similares: Prueba esta Frittata Vegana que hice para Instagram usando una receta similar.