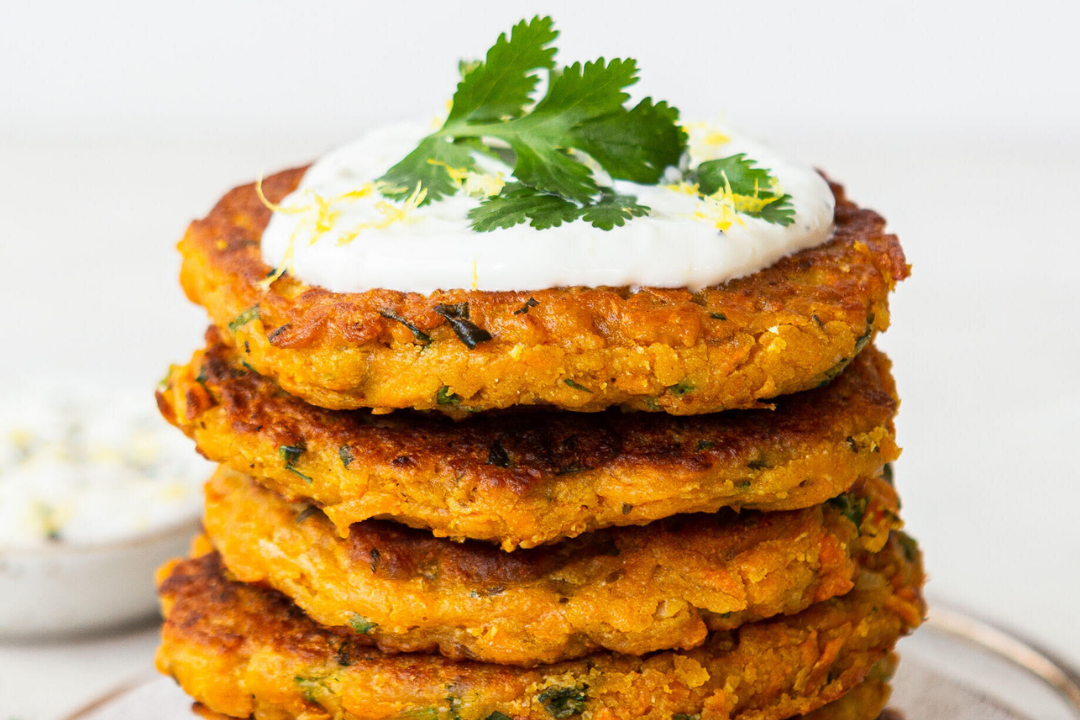 Here's a delicious and easy way to incorporate more quinoa into your diet. These Crispy Quinoa Fritters are a fan favorite in our home and they will be in yours too!
⠀⠀⠀⠀⠀⠀⠀⠀⠀
Nutritional Tip: Quinoa is often described as a "superfood" or a "super grain," because it's packed with protein, fiber, and various vitamins and minerals. One cup cooked provides about 8 grams of protein and 5 grams of fiber.⠀⠀⠀⠀⠀⠀⠀⠀⠀
⠀⠀⠀⠀⠀⠀⠀⠀⠀
Ingredients⠀⠀⠀⠀⠀⠀⠀⠀⠀
2 cups cooked quinoa⠀⠀⠀⠀⠀⠀⠀⠀⠀
2 cups shredded carrot⠀⠀⠀⠀⠀⠀⠀⠀⠀
2 Tbsp olive oil⠀⠀⠀⠀⠀⠀⠀⠀⠀
1/2 cup yellow onion, chopped⠀⠀⠀⠀⠀⠀⠀⠀⠀
4 cloves garlic, minced⠀⠀⠀⠀⠀⠀⠀⠀⠀
2 cups baby kale, chopped ⠀⠀⠀⠀⠀⠀⠀⠀⠀
3 medium eggs, whisked⠀⠀⠀⠀⠀⠀⠀⠀⠀
1 tsp curry powder⠀⠀⠀⠀⠀⠀⠀⠀⠀
1/2 cup of oat flour⠀⠀⠀⠀⠀⠀⠀⠀⠀
Salt and pepper to taste (I use Redmond's Real Salt – Use promo code OurFlipSideLife for 15% off your order)⠀⠀⠀⠀⠀⠀⠀
⠀⠀⠀⠀⠀⠀⠀⠀⠀
Instructions: Prepare quinoa if it's not already cooked and set aside. Heat a large pot over medium heat. Add olive oil, onion, carrot, and garlic and sauté for 4-5 minutes, stirring frequently, or until the onion and carrot are tender and fragrant. Add chopped greens and stir to slightly wilt. Set aside. Add eggs to a medium mixing bowl and whisk until well combined. Set aside. To a large mixing bowl add sautéed vegetables, curry powder, stir, and season with salt & pepper. Add the eggs and stir. Lastly, add the oat flour and stir until combined. You should have a slightly wet but moldable mixture. Add more flour as needed if too wet to handle. Form into thin patties the size of the palm of your hand. In the meantime, heat a large rimmed skillet. Once hot, add enough oil to coat the pan and enough fritters to fit without crowding. Pan fry until golden brown for about 3-4 minutes on each side. Serve hot with garnishes of choice, such as lemon juice, or fresh herbs (all optional).⠀
If you would like more recipes like this, CLICK HERE to get my FREE Recipe Book!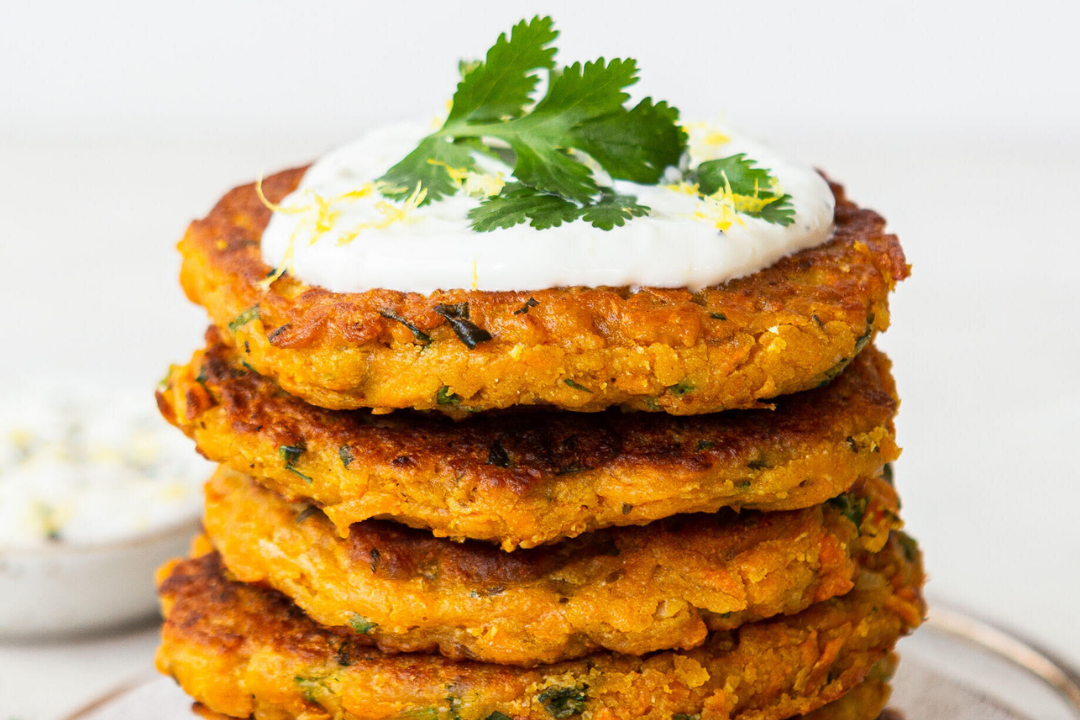 Hoy les tengo una manera fácil y deliciosa de incorporar más quinoa a su dieta. ¡Estas frituras de quinoa son famosas en nuestra casa y también serán en la suya!⠀⠀⠀⠀⠀⠀⠀⠀
⠀⠀⠀⠀⠀⠀⠀⠀⠀
Consejo nutricional: la quinua se describe como un "súper alimento" o un "súper grano" porque está repleto de proteínas, fibra, vitaminas y minerales. Una taza cocida proporciona aproximadamente 8 gramos de proteína y 5 gramos de fibra.

Ingredientes
2 tazas de quinua cocida
2 tazas de zanahoria rallada
2 cucharadas de aceite de oliva
1/2 taza de cebolla amarilla picada
4 dientes de ajo picados
2 tazas de col rizada tierna, picada
3 huevos, batidos
1 cucharadita de curry en polvo
1/2 taza de harina de avena sin gluten
Sal y pimienta para probar

Instrucciones: Prepara la quinua si aún y dejar al lado. Calienta una olla grande a fuego medio. Agregue aceite de oliva, cebolla, zanahoria y ajo y saltee durante 4-5 minutos, revolviendo con frecuencia, o hasta que la cebolla y la zanahoria estén tiernas y fragantes. Agrégale las verduras y revuelva hasta que se marchiten ligeramente. Dejar de lado. Agregue los huevos a un tazón y bate hasta que estén bien combinados. Dejar de lado. En un tazón grande, agregue las verduras salteadas, el curry en polvo, revuelva y sazone con sal y pimienta. Agrega los huevos y revuelve. Por último, agregue la harina de avena y revuelva hasta que se combine. Debe tener una mezcla ligeramente húmeda pero moldeable. Agrega más harina según sea necesario si está demasiado húmedo para manipularlo. Forme empanadas del tamaño de la palma de la mano. Mientras tanto, caliente una sartén. Una vez caliente, agregue suficiente aceite para cubrir la sartén y suficientes frituras que quepan sin amontonarse. Fríe en la sartén hasta que se doren durante unos 3-4 minutos por cada lado. Sirva caliente con su elección de jugo de limón o hierbas frescas.
Si deseas más recetas como esta, ¡HAGA CLIC AQUÍ para obtener mi libro de recetas GRATIS!